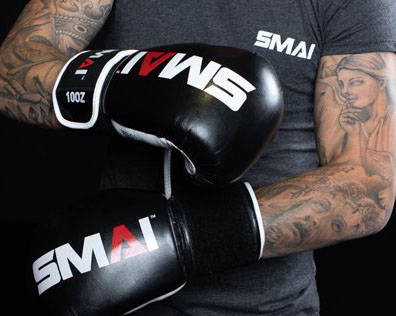 For first-time boxers, the question of "what size boxing gloves should I get?" can be a daunting one. There are hundreds of different styles, types and brands of boxing gloves to choose from online and they all come in a wide range of sizes!
Having boxing gloves that fit correctly is just as important as wearing them in the first place. Like all types of protective gear, they perform best when sized properly. Having the wrong size boxing gloves can not only reduce your performance but can also lead to serious injuries over time.
Then, there are also hand wraps to consider – these are another essential piece of equipment that your gloves need to fit over. It sounds like a lot, but we'll break it down so it's an easy task!
What Size Boxing Gloves do I Need?
Boxing gloves come in a variety of weights, ranging from 8oz to 20oz. What size (or weight) boxing glove you need not only depends on what type of boxing glove you need but also your weight and dominant hand size.
To find out which size boxing glove is best for you, you will need two measurements, your weight and the circumference of your dominant hand.
To measure the circumference of your hand, use a fabric tape around your open, dominant hand just below the knuckles. If you don't have a fabric tape, use a string in the same manner as you would a fabric tape and then measure the string. The tape or string should meet in the centre of the palm of your dominant hand for the most accurate measurement.
Once you have the two measurements and have decided what type of boxing glove you need, simply use the charts below to find you best size fit. If you are between two sizes and want a tighter fit, then select the smaller size. If you prefer a looser fit then select the larger option, but remember you want the glove to fit snugly on your hand.
If you are still having trouble deciding which glove size to choose, get in touch with the SMAI customer service team.
How should my boxing glove fit?
So, what should you look for when trying on a pair of boxing gloves? Well, as the saying goes, you should look for a pair that fit "like a glove". This means the glove should be a snug fit, without restricting blood flow.
 You should always try on gloves while wearing hand wraps, and never buy a set of gloves that fit perfectly without them, as they will likely be too tight once your hands are wrapped.
Your fingers should reach the top of the hand compartment without any room left over, but not so much that your fingertips are cramped against the top. Everything should feel comfortable and be neither too loose nor too tight.
What Types of Boxing Gloves Are There?
Boxing gloves come in different sizes and weights, and work to serve different purposes.
These include:
Bag gloves

—As the name suggests, bag gloves should only be used on bags as they use less padding than sparring or competition gloves. This will give you a better feel for how your punches are landing and make it easier to spot errors in form. Bag gloves can be used on heavy bags, speedbags, pads and most other punch training devices

Training gloves

—These are the best all-around gloves for those new to the sport. The padding is ample for sparring, yet light enough for bag work, making them the "jack of all trades" option for those who only want to purchase one pair of gloves.

Sparring gloves

— Sparring gloves are similar to training gloves but have more padding to ensure that you do not injure your sparring partner. These gloves are perfect for after you've been around the ring for a while and are ready to upgrade from your training gloves to a pair of sparring gloves.

Competition gloves

—Competition gloves are required for the competitive boxing ring. With less padding than their alternatives, these are suitable for both amateurs and professionals that are competing. They also require sizing by weight division, and amateur gloves are subject to much stricter requirements and rules than are professional versions.

Do You Need Boxing Hand Wraps?
Hand wraps are a must-have to ensure your hands and wrists are stabilised to avoid injury. Sparring or punching workouts should never be performed without them as they provide extra padding to protect your knuckles from direct impact.
How do you clean boxing gloves?
First and foremost: do NOT machine wash your gloves, since they are likely to destroy your gloves, especially leather ones. Instead, a soft, damp cloth may be used to wipe them down. For vinyl gloves, use a soft cloth and warm water. For leather gloves use leather wipes to gently clean them.
Tea tree or lavender oils will both effectively disinfect and deodorise your gloves.
Of course, the easiest way to keep your gloves from smelling is to air them out after every session and to wear inner gloves and hand wraps. Find out more ways to keep you boxing gloves fresh here.
Are boxing gloves unisex?
While men's and women's boxing gloves may come in similar weights, their actual sizes can differ. The internal hand compartment of women's boxing gloves is often narrower for a more precise fit. As most gloves on the market are unisex, you can simply use our Sizing Chart for a comfortable fit.
Are boxing gloves supposed to be tight?
Boxing gloves need to fit snuggly enough to stay in place and not shift around, though not so tight that they cut off circulation or "squeeze" the hand.
What are boxing gloves made of?
Most sanctioning bodies require leather gloves, although some lower quality models may be made using vinyl. Both use durable nylon stitching along with high-density polyurethane padding. SMAI's Elite Boxing Gloves are made using injection moulding technology with cowhide leather to contour to the natural shape of your fist, holding the thumb in the correct position which offers unparalleled hand protection and reduces the risk of injury.
What boxing gloves are best for kids?
Kid's boxing gloves should be high-quality and have plenty of support to avoid injury. They also need to fit so they are comfortably snug without being too tight. For kids, good-quality vinyl may be fine for their first pair since they are entry-level and there is a strong chance of them being outgrown prior to competition. SMAI's kids boxing gloves come in three different sizes 2oz, 4oz and 6oz and are made for kids aged three to ten. To find out what size glove is right for your kid check out our Kid's Boxing Glove rough size guide.
Looking for New Boxing Gloves?
Whether you are new in the gym or a seasoned combat athlete, knowing what size boxing gloves to get is important. This includes knowing which boxing glove weight, material and type you need. And, once you have your own gloves, you're not going to miss those smelly old gym loaners one bit!
If you're looking for a new pair of boxing gloves, SMAI can help! With a huge range of boxing gloves, SMAI is the go-to place for all your boxing needs. Check out our boxing glove range today!