Whether you are starting a new business, relocating to a new location or expanding your franchise, consider our 8 tips for designing your commercial gym.
1. Is the space right for my business?
Are you looking to incorporate cross training into your programs or offerings? If you want high rigs that you can hang gym rings off for muscle ups, then you might want to forgo that studio in the inner city, and start looking in industrial zones or multi-purpose zones where height and space shouldn't be an issue.
2. How much equipment do I need?
If you have group classes, think about setting up different stations to maximize your capacity while reducing upfront costs. For example, if you have a group of 12, rather than buying 12 of each item, buy items in multiples of 4. That way, you can have 3 classes that rotate around each station. This is particularly useful if you are working around a budget, but don't want to compromise on quality.

For equipment that is more for private sessions or general training, consider only 1 to start to gauge demand for that equipment, and add another one as you grow.

If you have low budget or a smaller space, you might want to choose a few pieces of equipment that are more versatile, rather than equipment that isolates one body part and takes up a lot of room.
3. How should I plan the layout?
Generally speaking, you should separate the equipment into different zones. Some ideas you might like to think about: cardio, cable machines, free weights, functional training, stretching and abs, group training area, boxing etc.

This is not only ideal for planning to avoid confusion, but also for optimal traffic management and avoid overcrowding. Users may start in the cardio area, moving onto cable machines and free weights for the majority of their workout, and head over to the stretching area to finish off.

And don't forget to include an area at the entrance where clients can put away their belongings.
Want to try making your own layout? Our 3D gym designer will have you creating your design in minutes.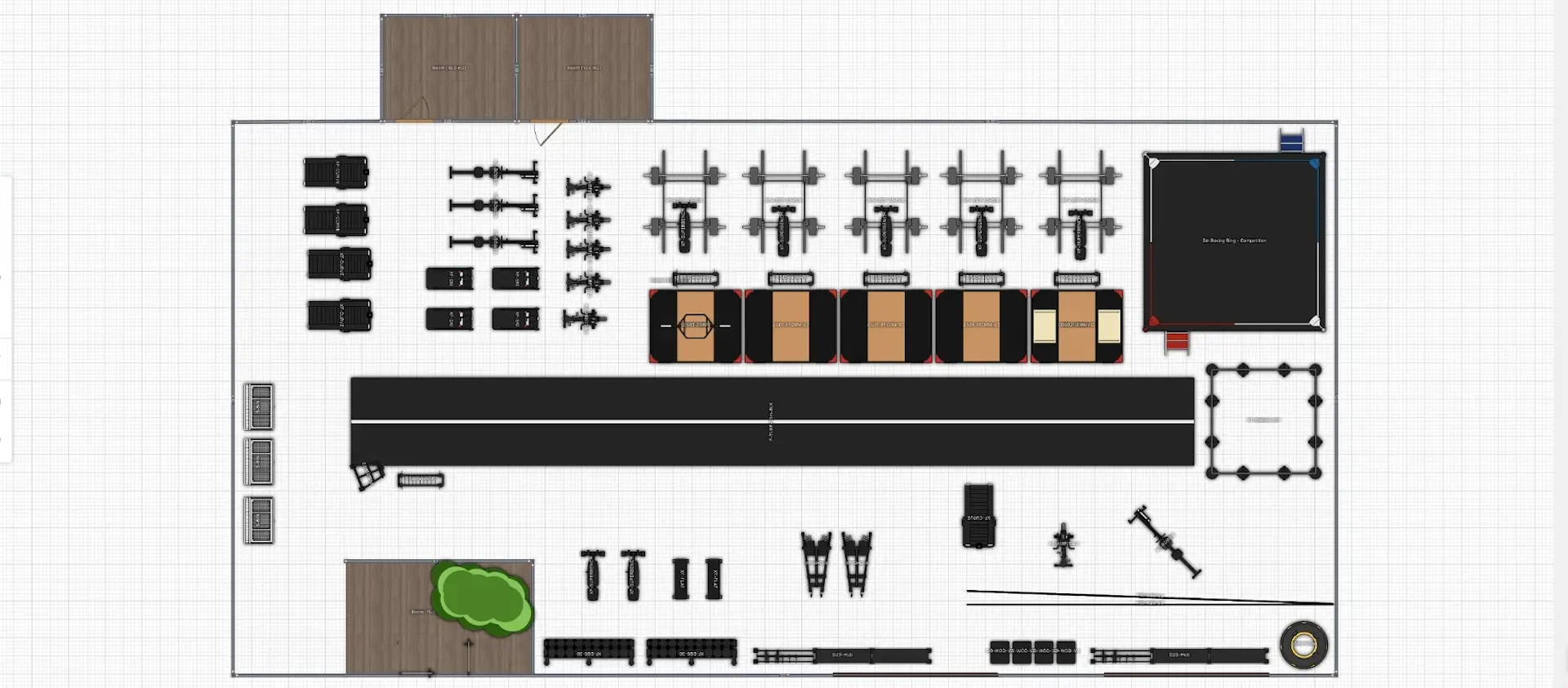 4. How can I maximise floor space?
The biggest way to get the most out of your new gym is to use every available surface – this means going vertical. Get your gear up off the floor and onto the walls, trust us it's worth investing in these pieces. Not only does it give your gym more space, it also ensures your equipment is stored properly and means less trip hazards (something you always need to be mindful of).

Make sure you don't overclutter or try to squeeze too much equipment into the space though. If you have a few squat racks next to each other, allow 1m between each stand so that 2 people can safely change weights without feeling the tight squeeze between 2 barbells.
5. Should I just get the cheapest flooring?
If you're considering getting cheaper flooring to help with your budget, you might want to think again. Cheaper flooring is made from cheaper materials or shortcut processes, which means they are more likely to deteriorate in less time. Think about long term investments and choose high quality flooring from a reputable company, which will last you at least twice as long. With proper care and maintenance, you may find you only need to replace high traffic areas every 4 years or so.
6. What regulatory issues should I consider?
The Australian Building Code covers a number of issues for fitness gyms, including the fire resistance of building elements and acoustic performance.

For both of these, flooring is a crucial element. To meet the requirements for fire resistance, the flooring will need to have passed the ISO 9239-1:2010 which assesses the burning behaviour of flooring when ignited with flames. Whilst many supplies have completed this testing, not all tests have been passed or results may have been forged.

For acoustic performance, you'll need to consider how much noise you're likely going to make and how to best manage it. From the beeping of the timer, the dropping of the weights, to generate crowd chatter, make sure to reduce the negative impacts for your neighbours. For most standard gyms, rubber gym tiles is adequate to absorb impact of dropped weights, and will also protect your equipment in the long run.

You can also find more information on Planning and Building Regulations for Fitness Businesses at Fitness Australia


7. What if I need electrical outlets for cardio machines?
If you're thinking about powered machines such as treadmills, consider the area that you are putting them in. Traffic management and hazard reduction is key, so ensure that they are tucked in a corner and any loose cords are controlled.

An alternative is to use machines that do not require plugging into the wall such as the SMAI Air Bike, Rower, Ski Machine, Treadmill. Best yet, they are perfect for moving around the gym offering you more flexibility for your classes and layout.
8. How should I choose the colour scheme?
Paint the walls white to make the space appear bigger. If you have a smaller space, avoid too much colour in your design and equipment choice as this may clash and look cluttered. If you have a brand colour that you would like to highlight, consider adding an accent LED light. Less is more!
---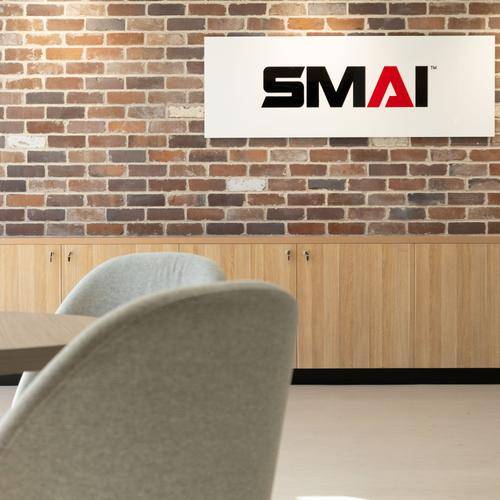 3 TIPS TO NAVIGATE YOUR BUSINESS THROUGH A RECESSION
Across 35 years in business, SMAI founders Homa & Lilly Alenaddaf have navigated the business through two recent recessions. We asked them what strategies they employed in 2007 and if those lessons learned are still relevant today.