SAJAD GANJZADEH: GRAND WINNER AND TOKYO OLYMPIC KARATE ATHLETE
A seasoned Karateka competing in the 84kg Kumite division, Iranian athlete Sajad Ganjzadeh took gold at the 2014 and 2016 world championships, the 2013 and 2017 Asian championships, and the 2018 Asian Games. Now, the Grand Winner has his eyes set on an Olympic medal.
With the postponed Tokyo Olympics beginning this month, we spoke to Sajad about his lead up to the Games.
It's an incredible feeling being one of the Karatekas who is going to the Olympics
Sajad Ganjzadeh
We asked Sajad about how the pandemic has impacted his training. He explained how its effect on Iran meant he could not train at all, which was surprisingly beneficial. He also talked about COVID-19's impact on professional karate competitions.
"When the pandemic first affected our country, we had to stop all sports activities for almost ten months. We took the opportunity to rest because we had been extremely busy with the Olympic Games qualification process for over a year. We focused on fun activities to keep fit, but as soon as we had permission to partake in proper training, we attended a training camp that our karate federation held."
"After attending four training camps, we participated in two World Karate leagues held in Istanbul and Lisbon. We had to wear masks and consider the medical protocols during these two tournaments. Even though it could be annoying at times, we understood the importance of following the rules and regulations."
FROM THE WKF APPROVED RANGE
The pandemic has resulted in many major sporting competitions going forward without crowds watching and cheering on athletes. Sajad stated how it affected him as both a competitor and spectator.
"Competing without spectators never feels good. No spectators also meant that we couldn't watch any of our friends competing, adding to the disappointment."
While many athletes have found the delayed start of the Olympics to be negative, Sajad has found positivity in the pushback.
"The delay of the Olympics worked out well for me as I was fatigued both mentally and physically. With this extra time, I hope to do my best to prepare myself for upcoming competitions during the remaining time before the Olympics begin."  
Karate is among those sports that demand speed, explosiveness, and power
SAJAD GANJZADEH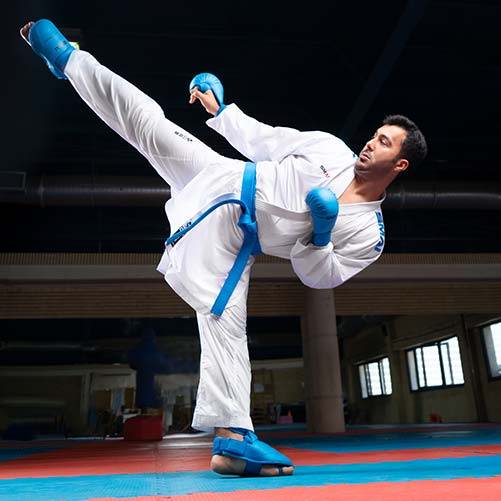 Acknowledging the arduous task of qualifying and preparing to be an Olympic athlete, Sajad expressed his gratitude and overall commitment to leaving it all out on the Tokyo tatami.
"It's an incredible feeling being one of the Karatekas who is going to the Olympics. When I first heard that karate would be at the Tokyo Games, I couldn't imagine being one of those athletes because I know the journey to the Olympics is so tough. Fortunately, I made it, and I will try my absolute best to make my family, friends, and those who love me proud."
We wanted to know what training techniques Sajad thought were the most beneficial for his performance on the Olympic stage. He explained that having trust in his coaches and making time for the training he enjoys plays a role In his success.
"In my opinion, I believe that every athlete must obey and follow the training schedule of their national team as well as trust their coaches with conditioning and technical advice. Trust and credibility in coaches provide athletes with self-confidence and help ease their worries during training. I believe every athlete needs to do some specific training suited for their needs, so I often ask my head coach to give me free time to do some of the training that I love to do, and I believe that kind of work has helped me a lot."
Karate GI must be very comfortable, light, and durable - SMAI's uniforms feature all these qualities
Sajad Ganjzadeh
Sajad went into further detail about the specific training needed for karate, stating what he considers is most important for success.
"Fortunately, I have been in excellent physical condition for most competitions I have participated in. In saying that, we know professional athletes' physiological needs and demands require that kind of physical conditioning. Karate is among those sports that demand speed, explosiveness, and power, and I think strength is the foundation of all movements and skills within the sport. Undoubtedly, technique is also fundamental, but how we use it is much more critical than anything else. Since karate is not an endurance sport, we do only some specific endurance training at the preparation phase of our training and then nothing more. I know and believe that conditioning training is an essential aspect of any sport, especially karate. I have worked with the best fitness conditioning coaches during the last ten years, and I believe this is one of the main reasons our team has been highly successful."
When nearing competition, training does alter slightly for Sajad, he explained.
When nearing competition, training does alter slightly for Sajad, he explained.
"As we get closer to competition, we dedicate most of our training time to tactical and technical training. We also decrease some of the conditioning training, but we never stop weight training. Sometimes we like to master some specific kinds of movements as well."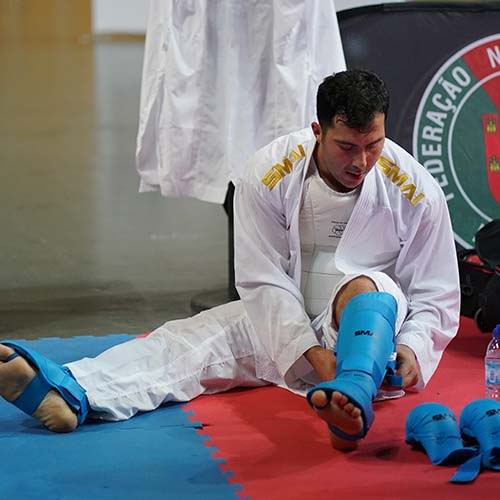 With the Olympics on the horizon, we asked Sajad about his goals for this year.
"2021 is one of the most crucial years for me because of the Olympic Games. Since it's the first time the Olympics features karate, I would want to embrace this opportunity and give myself the best chance to earn a medal. After the Olympics is over, there are two more competitions which are very important - Asian Championships and World Championships. The Iranian team have received gold in Kumite at the World Championships three times, and I want to be part of memorable history and achieve gold with the Iranian team a fourth time."
With clothing and uniform attire being an essential aspect of competition and training, we asked Sajad what is critical to him when looking for karate uniforms and sparring equipment.
"Karate GI must be very comfortable, light, and durable - SMAI's uniforms feature all these qualities. The clothes are a perfect fit for me, and they feel amazing when wearing them. The gloves and other karate equipment are also very unique. The great thing about SMAI, which separates them from the rest, is the colours of the equipment. The backpack, luggage, and T-shirts are also well designed. SMAI is one of the best brands in the world and one of the most professional brands in karate." Follow Sajad's Olympic journey via his Instagram @sajad.ganjzadeh – we cannot wait to watch him take on the rest of 2021, especially with Tokyo only one month away! The karate competition at the Tokyo 2020 Olympics will be held from 5-7 August 2021 at Nippon Budokan.
FROM THE WKF APPROVED RANGE