So you've setup a home gym...
How to clean and maintain your training sanctuary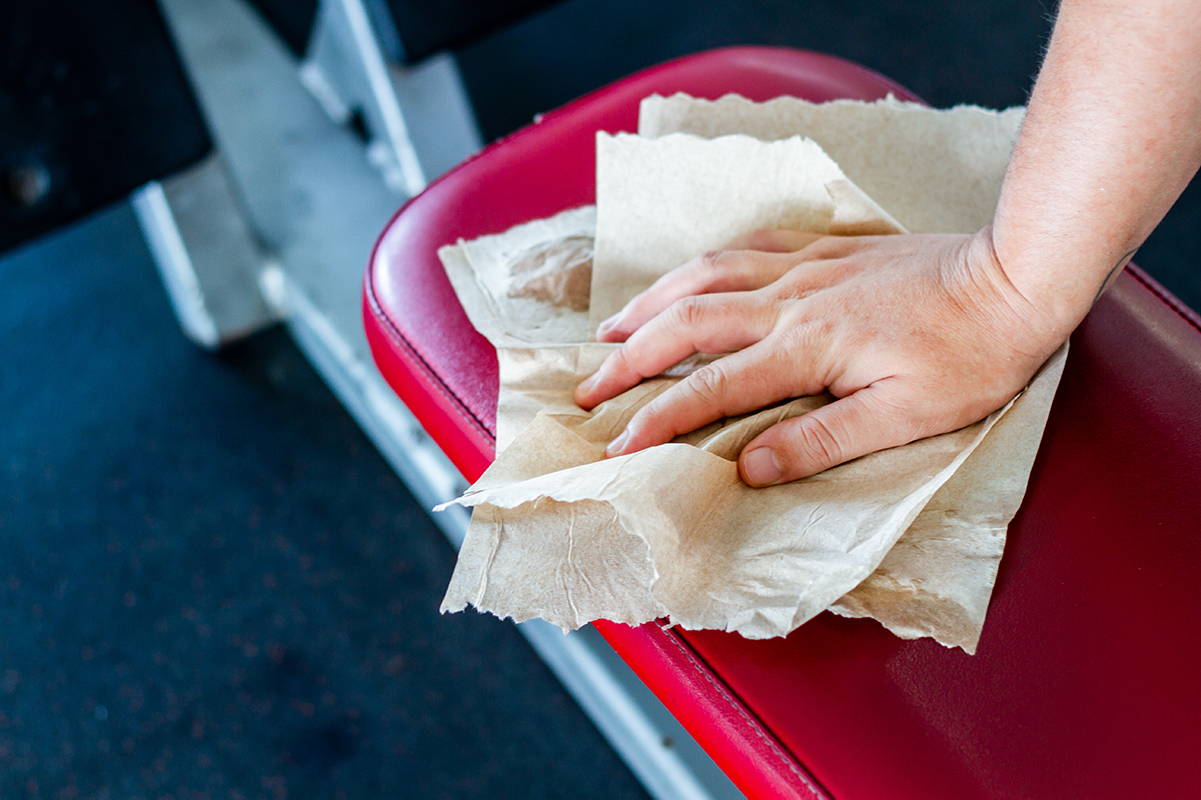 AVOID USING HARSH CHEMICALS. REGULAR GENTLE CLEANING IS IMPORTANT
GENERAL HOME GYM EQUIPMENT CARE ADVICE
So you've pulled the trigger on that home gym purchase. You've taken delivery, setup your gear just the way you like it, and shared your setup on Instagram (C'mon we know you did, you tagged us on Instagram )
Now you are setup to train and have a new routine, maintenance of your setup should become part of a weekly routine. The simplest, and most important task (especially during COVID-19) is hygienic cleaning. Although you might be the only one using your training equipment, you can still bring bacteria into your home gym from external sources. They could transfer to your gym equipment, waiting for your next session. Some sources report bacteria can live happily on equipment for 3 days!
As a general rule, avoid harsh cleaning chemicals and strictly do NOT use hand sanitiser directly on your equipment. Harsh chemicals and alcohol found in hand sanitiser can deteriorate rubber and metals, both widely used gym equipment materials. Specialised gym cleaning wipes are the best option.
In most cases, dipping a cloth in a very light solution of liquid dish detergent and water, squeeze out excess water and rub over your equipment. Focus on handles and touch points. Dry off immediately with a dry cloth. After each training session, wipe down all your equipment and endure it is dry. This last part is important, a wet, warm environment will be a bacteria breading ground!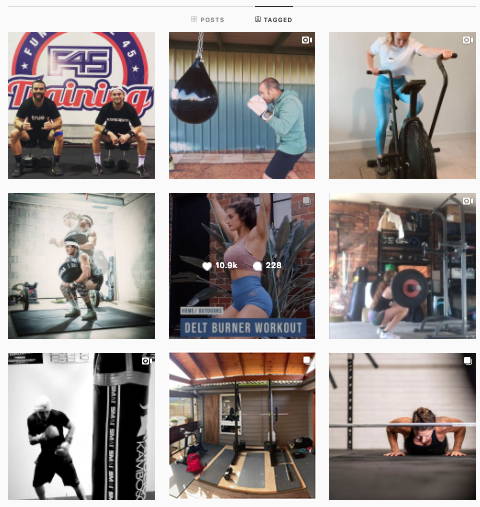 WE HAVE LOVED SEEING YOUR HOME GYM SETUPS - THANKS FOR THE MENTIONS!
Rubber Dumbbells may arrive from the factory with a protective oil coating, applied for protection during transport and storage. You may notice a residue when you receive your gear. This is normal, and should be cleaned off before use. Simply mix a little drop of liquid dish detergent with water, and wipe the rubber with a cloth dipped in your liquid.
When used indoors, rubber dumbbells will require a regular wipe with a damp cloth. However if you intend to use them outdoors, you should consider a rubber protectant to guard against UV damage and prevent the rubber from drying out and cracking.
Cast Iron Kettlebells should have the handles wiped with a mild liquid dish detergent solution, and dried immediately. Do not let moisture sit on the kettlebell as it will rust very quickly. If you do start to get a small rust buildup it can be treated with a brass brush to work off rust before it takes hold.
HOW TO CLEAN WEIGHTLIFTING BUMPER PLATES
Similar to rubber dumbbells, Bumper plates may arrive from factory with the same protective oil coating the guard the rubber. This too is normal, and should be wiped away as soon as you receive the plates. Cleaning should also follow the same procedure - a light liquid dish detergent and water solution, and a soft cloth dipped in the liquid, excess water squeesed out. Wipe around the diameter abnd across the face of the plate.
Special attention needs to be placed on barbell knurling (the rough, grippy surface). Think back to your gym - do you remember seeing rust buildup on barbell and dumbbell handles? Chalk and skin will build up in the knurling, atrracting and retaining moisture, which causes rusting. This can be avoided by using a nylon or brass brush and scrub the fine knurling to clear any debris. Once the knurling is clear, your trusty, light soapy water solution is used to wipe the entire bar, and don't forget to dry immediately. If you leave the bar damp it will rust in no time at all.
Chalk dust is very fine, and will build up in KNURLING, moving parts of equipment and clog workings and gearing of machines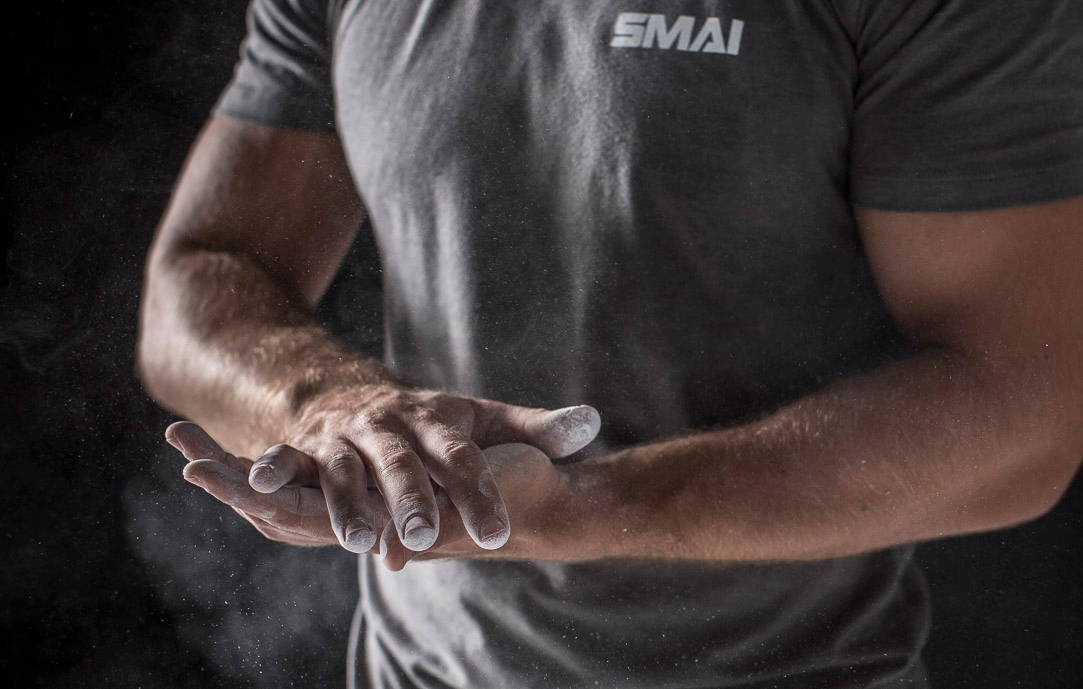 HOW TO CLEAN RUBBER GYM FLOORING
Rubber gym tiles can be simply vacuumed and finished with warm water and PH neutral detergent. Dont saturate or soak your floor in water however - a damp but not soaking mop is enough. Using too much water will seep between and underneath your tiles, damaging your rubber gym tiles, damaging your subfloor and causing mould. Ensure your floor is dry, both above and underneath your tiles.
Dust away chalk residue regularly. If you are performing weight training, chalk dust needs to be managed. Chalk dust is very fine, and will build up in moving parts of equipment and clog workings and gearing of machines. Be sure to wipe down excess dust with a damp cloth, and keep chalk stored well away from cardio machines or weights machines with moving parts. A chalk spill around a treadmill could mean extensive servicing of a machine to remove chalk contamination.
HOW TO CLEAN A CARDIO MACHINE
When it comes to your shiny new AirFit Bike, Rower, Treadmill or Ski Machine - they do require some maintenance. While under residential use, a cardio machine like the AirFit Bike or treadmill will require very little work. However, they all have moving parts, some of which will need to be replaced over the extended life of your machine. Look out for warn out drive belts and chains, or dirty and loose console electrical connectors. When it comes to cleaning, the same rules apply. Avoid any harsh chemicals, wipe down after every use and make sure you dry the machine as well. Keep water well away from any computer or console unit attached to your machine.  
HOME GYM EQUIPMENT STORAGE
Equipment storage is another important step. Is storing your kettlebells on a damp garage floor the best place to ensure longevity? Kettles can take a beating, but if you allow them to rust they will eventually deteriorate, become uncomfortable to use and look terrible too! Consider storage racks and rubber floor tiling to keep your equipment directly off the floor.
Have you considered the impact your gym equipment can have on your home? Weight lifting equipment is tough, but odds are your residential home space was not built to withstand impact from the types of training you might do at a commercial gym. Flooring is so crucial here, it absorbs impact from weights dropping on the floor, protects your home floor, whether that's timber, tiles, carpet or concrete. And it protects your equipment too! Bumper plates can easily crack if they are dropped onto hard concrete floors repeatedly.
By just following some simple, regular home gym cleaning maintenance you will extend the life of your weightlifting equipment and cardio machines, and maintain a clean, sanitised workout space.
---
Looking for even more hom gym equipment? Check out our home gym essentials collection