Martial Arts katana are available in a range of styles, materials, and can vary in practical application.
Each weapon can have an array of features and unfamiliar terminology that may leave you wondering what it all means.
In this guide we will break down some of the most common terms used in katana construction. Discover the meaning of tsuka, full tang, partial tang, ray skins, saya, tsuba, medium carbon, high carbon and damascus steel and why these are important in choosing the right katana.
The tsuka refers to the full handle of the katana. The tsuka is a detailed piece, constructed of several components, listed here in order from inner to outer.
an inner core, usually timber
a ray skin samegawa that wraps the core
handle ornaments known as menuki
the ito outer wrap, typically cotton.
All these components constructed together are called the tsuka, or handle of a katana.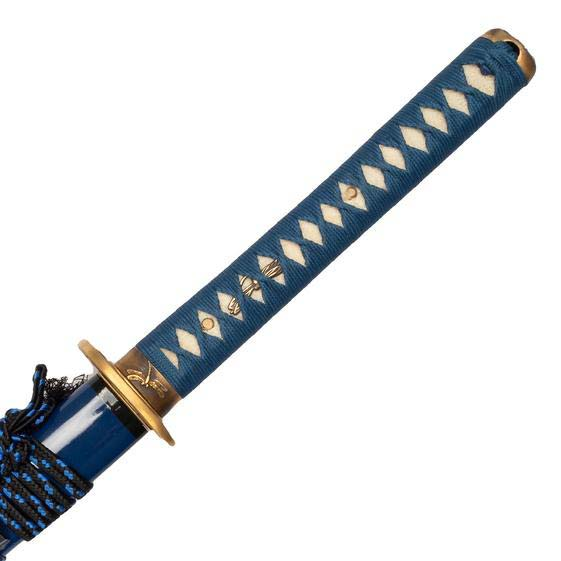 WHAT IS A ray skin samegawa?
A samegawa is a wrap which covers the core of the handle. The traditional material for a samegawa is ray skin.
Ray skin is a very tough, course and grippy material. Genuine ray skin is a natural material derived from the dried skin of a stingray. It is an expensive material and will usually be found on high quality katana. Synthetic ray skin is also available, and is a more cost-effective construction material.
The course, grippy and tough properties of ray skin make it an ideal material to wrap the tsuka core.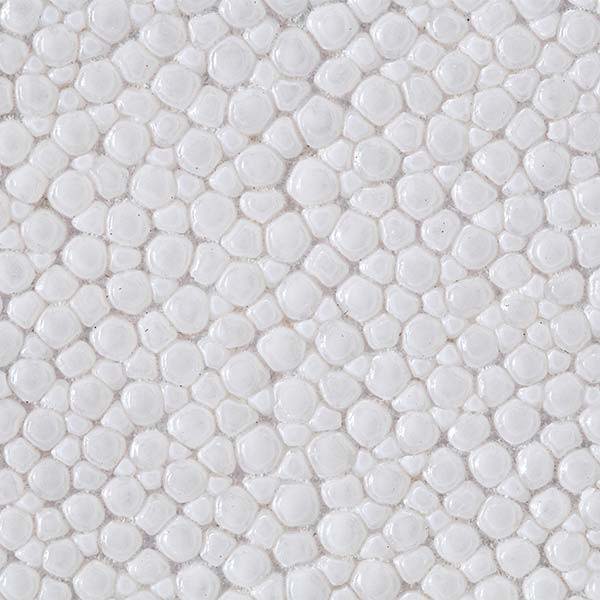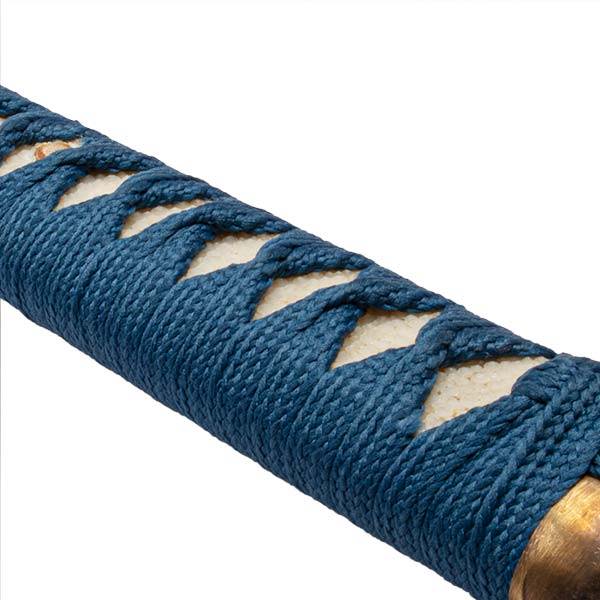 Menuki are tsuka ornaments or handle ornaments.
They are layered between the ray skin layer and the outer ito layer. Modern ornaments give the sword identity and character, and often feature iconography that represent different aspects of Japanese culture.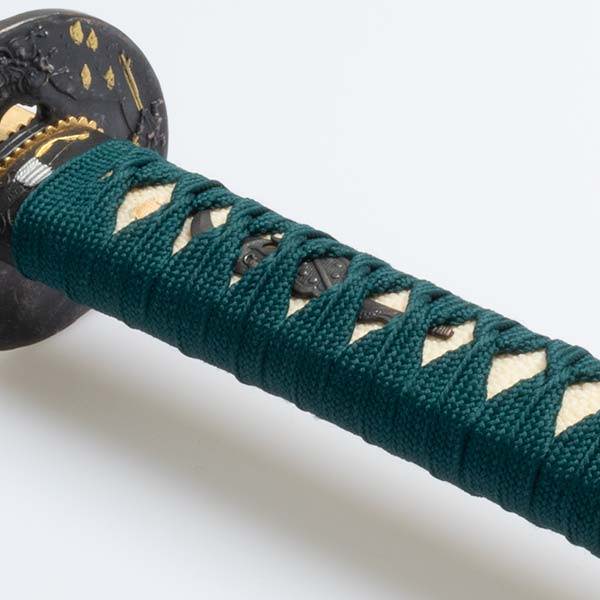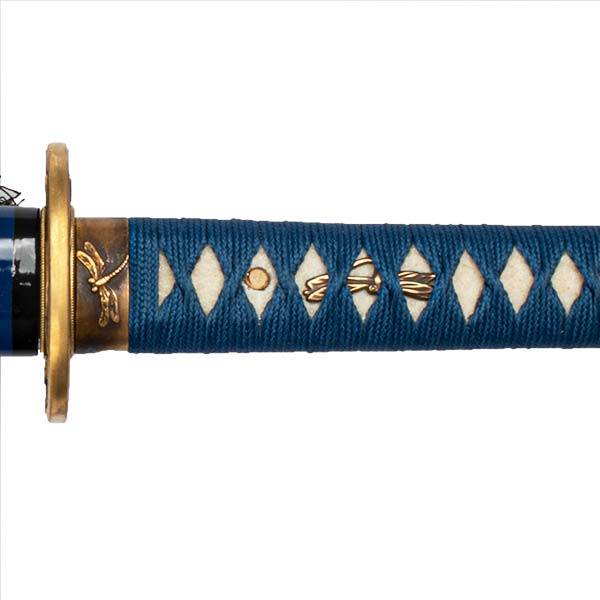 WHAT IS THE Tsuka-ITO or ITO?
The tsuka-ito or Ito is the outer wrap of a katana handle or tsuka. A modern ito will be cotton, leather or rayon and is wrapped around the samegawa ray skin layer. The ito is absorbent and will draw away any moisture from the hands, preventing the tsuka from slipping while providing a comfortable, dry and firm grip.
Different ito materials will provide a unique feel. Cotton and rayon are ideal as they maintain a rough surface. Alternatively leather, while softer in your hand, will wear quickly and become smooth over time, reducing grip.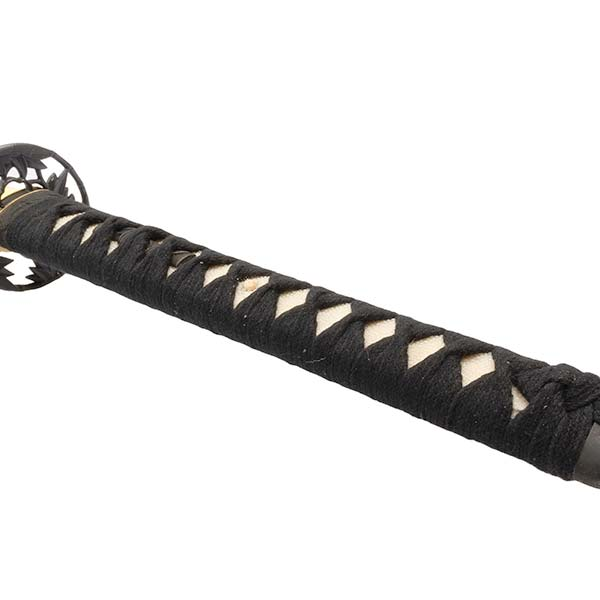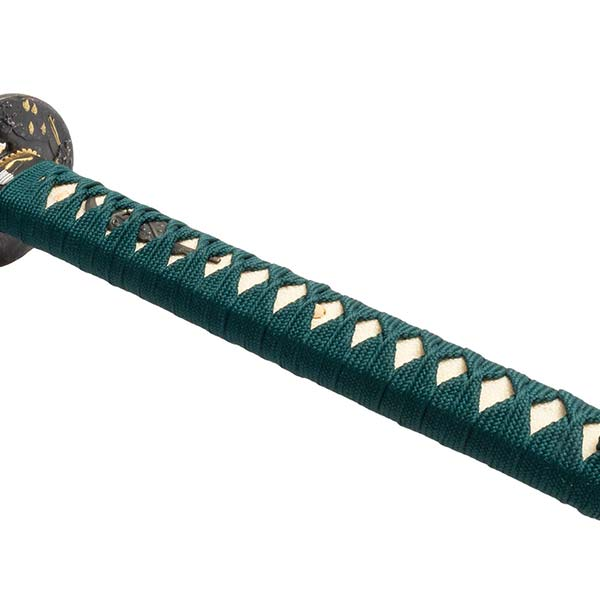 In general, when talking about katana, knives & swords, the tang refers to the length of steel or other metal that extends beyond the blade, into the handle.
A longer tang or "full tang", that extends the whole length of the handle, will be found in high quality katana products. Full tang is considered stronger and more resistant to bending and warping. A full tang additionally provides structure to the handle core, preventing cracks and splits in the handle. Sword balance is an importance consideration when selecting a katana, and a full tang will provide better balance and control.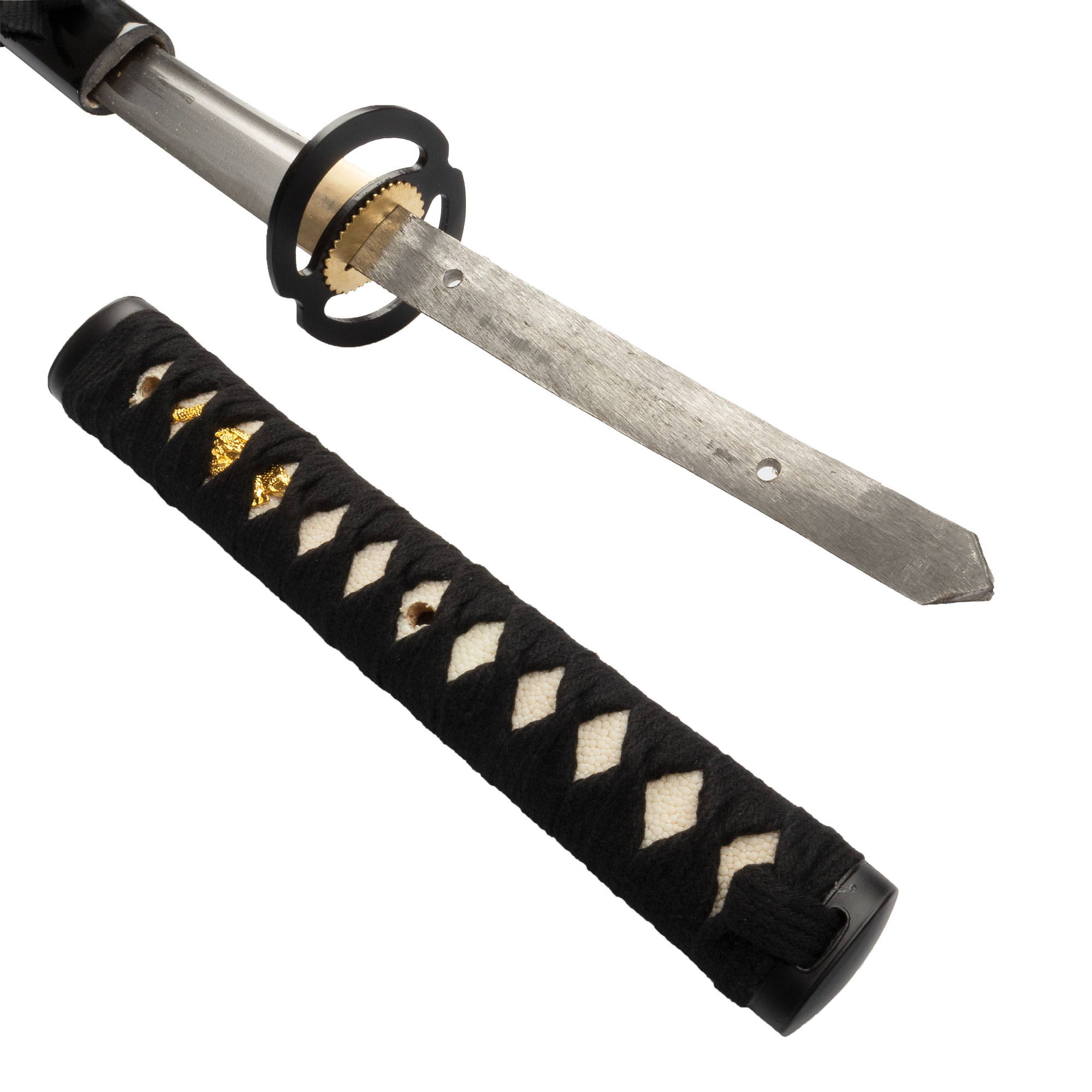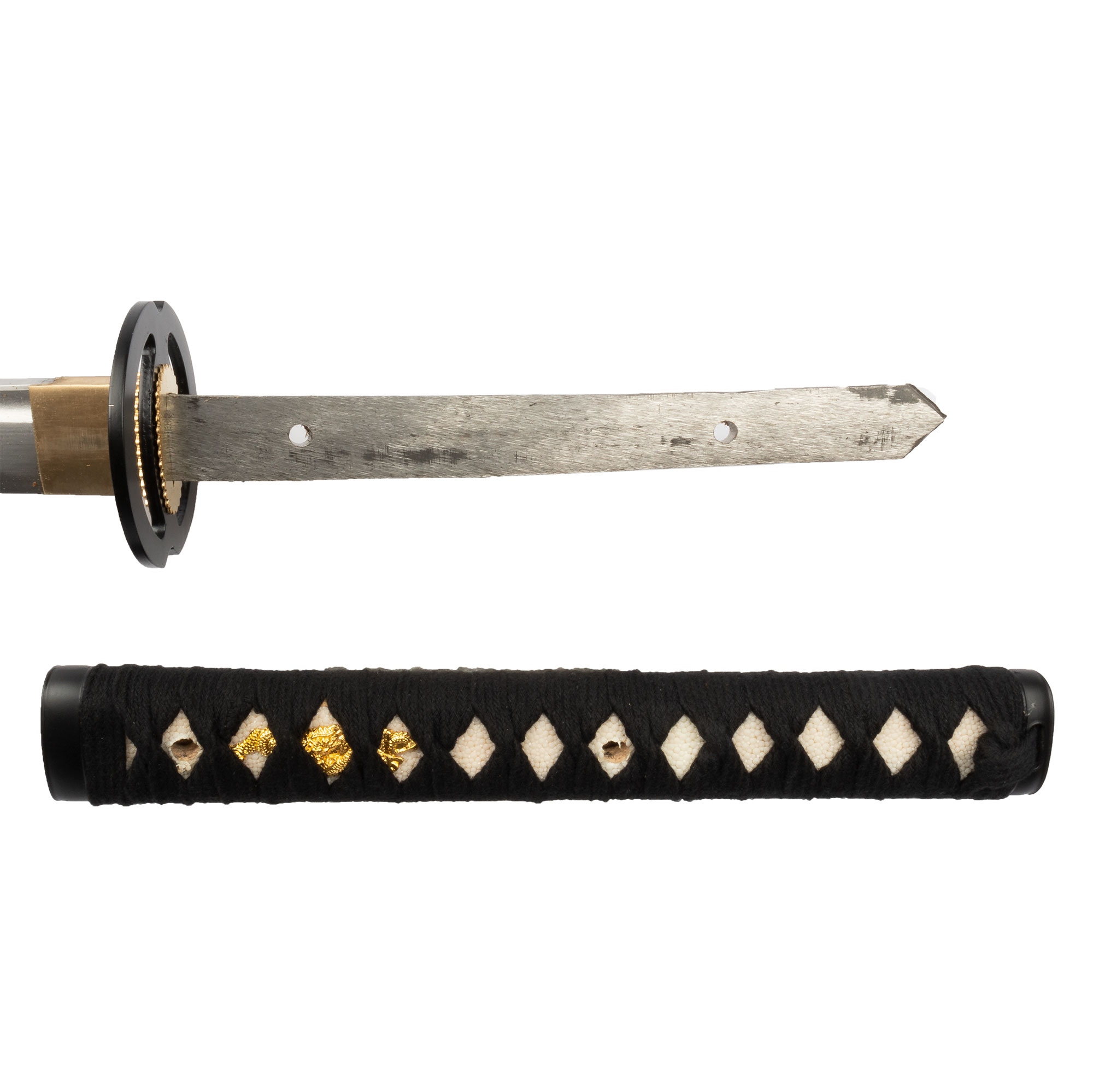 A saya is a traditional katana scabbard, or sheath. It is the cover for the blade, which provides both safety to the user and protection to the blade. Saya are typically made from lightweight lacquered wood, and are often decorated with matching colours, feature finishes, or hand painted images.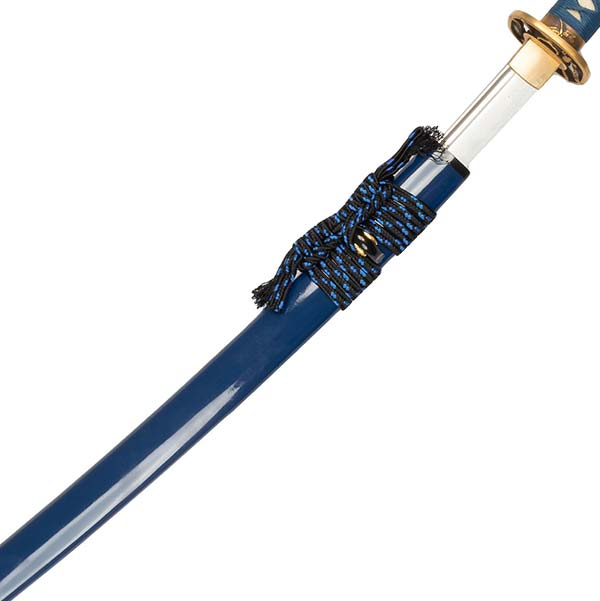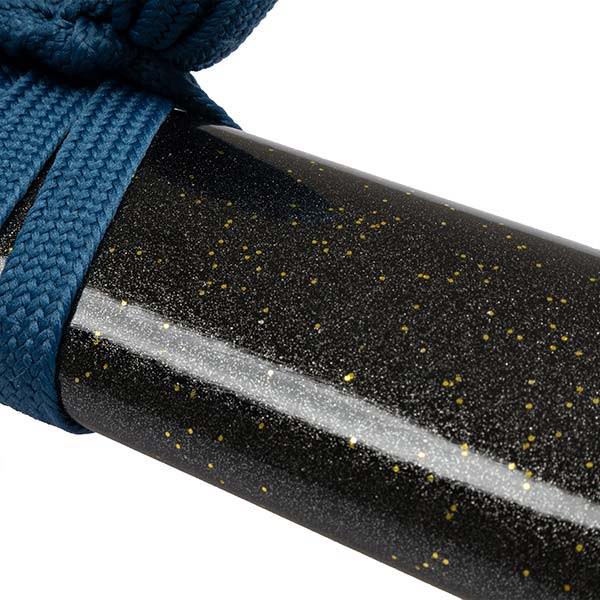 A tsuba is a hand guard, mounted between the blade of the katana and the sword handle. Tsuba can be constructed from various materials, however metals are the most common for katana. Tsuba are both functional and decorative – adding unique design elements to the katana.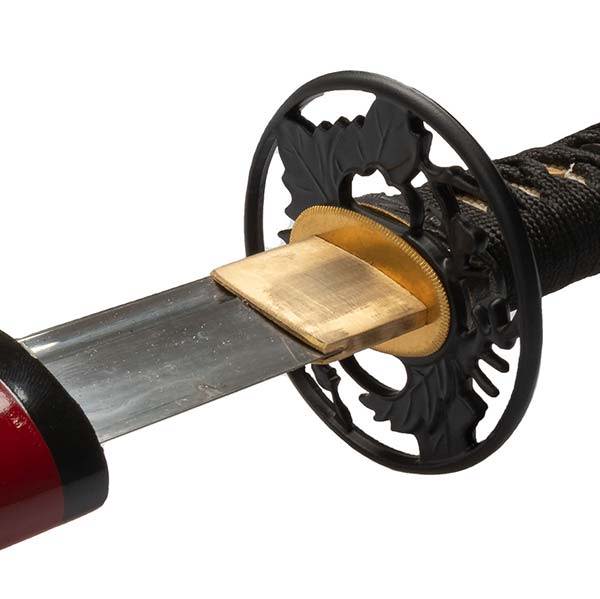 MEDIUM CARBON VS HIGH CARBON
One of the most asked questions we get is "what is the difference between medium carbon steel katana and high carbon steel katana?"
High carbon steel contains a higher ratio of carbon to iron which results in a stronger, harder and more rigid material. High carbon steel consists of more then 0.6% carbon, while medium carbon will be between 0.3% – 0.6% carbon.
Medium carbon steel will be less durable, but more affordable as the raw material and manufacturing costs are lower.
While both medium carbon steel and high carbon steel are suitable for katana, high carbon steel is considered the best and is an indication the high- quality katana construction. Avoid any katana with low carbon steel, unless for display purposes only. You may find a cheap low carbon steel katana, however the steel will be softer and less durable.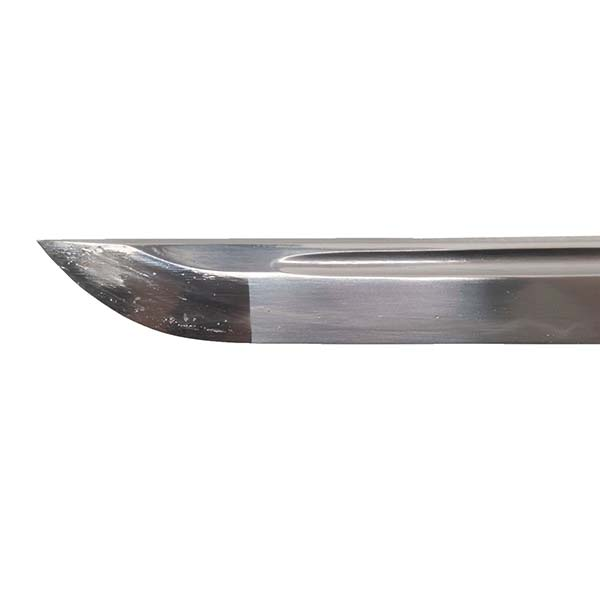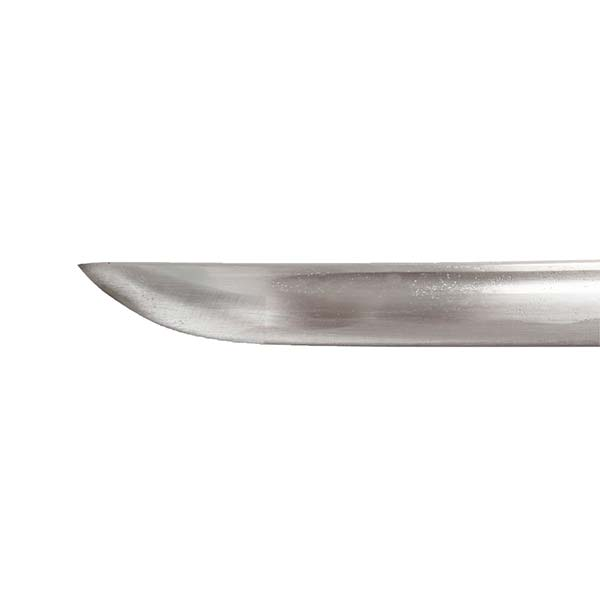 In modern katana manufacturing, Damascus steel refers to a particular construction and final finish of a sword blade.
Modern Damascus steel blades will feature a traditional folded steel grain pattern. It can be identified by a wave like pattern along the length of the blade. The pattern is created by a folding process when preparing the steel block, before the sword is shaped. The Damascus finish replicates a traditional technique which removed steel impurities. In modern katana manufacturing, folding is now used for aesthetic reasons, rather than practical reasons. Damascus steel requires a high level of craftsmanship and will be found in the highest quality katana.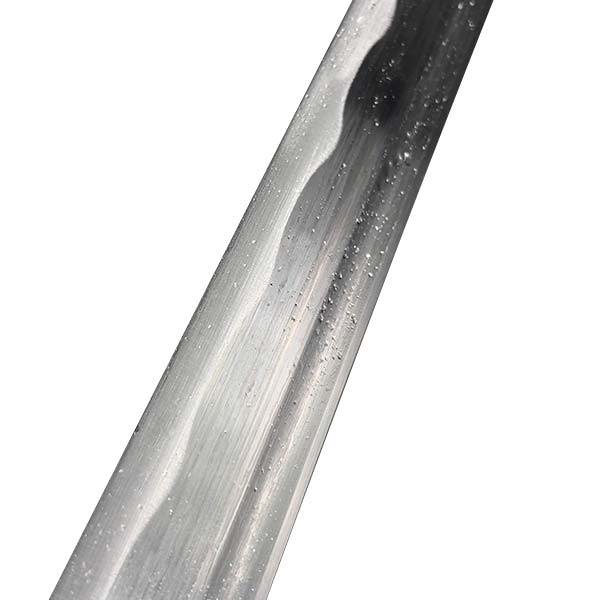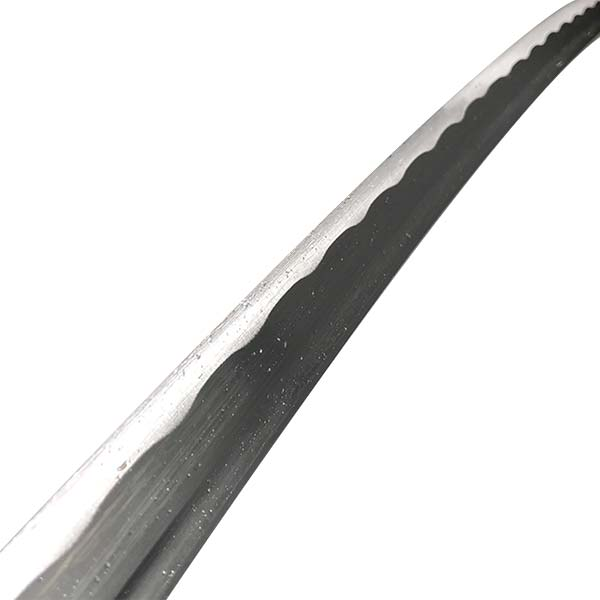 WANT TO SEE MORE? CHECK OUR OUR FULL RANGE OF KATANA NOW