Air Fit Bike 2.0 Monitor
XF-AIRFIT-MONITOR-V2
or make 4 interest-free payments of
$24.75 AUD
fortnightly with
More info
Want to upgrade your V1 Air Fit Bike? Simply swap the monitor and get the new and improved V2 design.
Sold as a set including the monitor and Cable. Please note that replacement of the cable on the old Air Fit bike is needed for the monitor upgrade and must be completed by the buyer.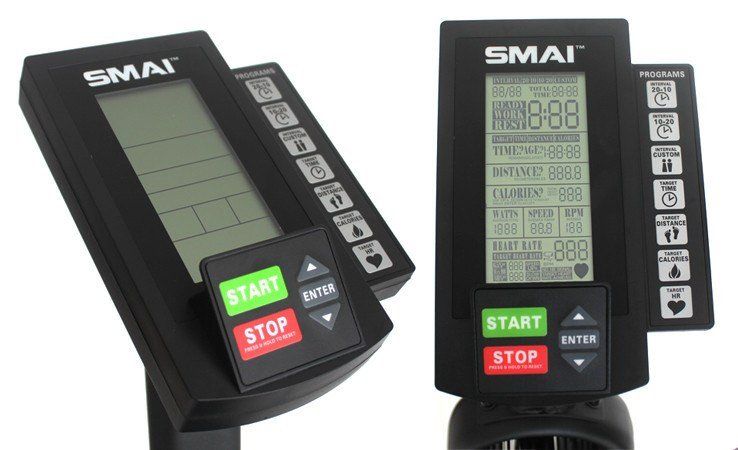 SET BY AGE
Change your settings and program based on your age
SHORTCUT KEYS
Press start for manual operation or you can choose from one of the 7 Preset programs on the right side of the console for the specific programs.
WATTS/SPEED/RPM DISPLAY
These are displayed on screen for all programs.
INTERVAL DISPLAY
Intervals will be displayed on screen along with the rest period such as: 20/10 (20 second workout /10 second rest period) 10/20 (10 second workout / 20 second rest period) or custom interval, where you select the time of your workout using the arrows and enter key along with the desired rest period.
TOTAL TIME DISPLAY
Will count up the total program run time while the larger numeric display will count the work and rest segment time. The 88/88 display shows the current interval and the total number of intervals in the program.
TARGET TIME, DISTANCE AND CALORIE DISPLAY
Programs can be set and are all displayed on the target display panel together.
STOP BUTTON
Pressing it for a second will cause a temporary pause in the desired program however holding the stop button will clear all your settings and data and take it back to a reset standby mode.
POWER SAVER
In standby mode the console will enter sleep if left for 30 seconds. Console will switch off after 1 minute of non-use.
Benefits
Afterpay is an online payment service that allows you to pay for your entire order in 4 fortnightly instalments. There is no interest or sign-up fee.
How does Afterpay work?
Place an online order
Choose Afterpay as the payment option
Signup or use your existing Afterpay account
Once approved, SMAI will dispatch your order
Limitations
Orders must be between $55 - $1,000, including shipping and GST
If this is your first order with Afterpay, your limit will be around $500
Afterpay cannot be used as a payment method over the phone or in-store